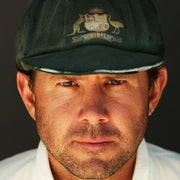 It is extremely humbling that our initial vintages have been so widely and well received. Our team and I are very focussed on delivering quality wines with great flavour, elegance and finesse for you to enjoy.
Ricky Ponting

Ponting The Pinnacle Shiraz is a flavourful wine of great structure and finesse, dominated by rich berry fruits with elements of black pepper, nutmeg and cloves.
Ben Riggs
Award Winning Australian Winemaker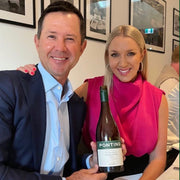 It's so rewarding to have a family-run business with a talented team of people that all share our passion for wine. We love working in it, each and every day.
Rianna Ponting
OUR STORY
Ponting Wines is a collaboration between one of Australia's most celebrated modern-day cricketer, Ricky Ponting and Ben Riggs, an award-winning Australian winemaker known for uncompromising, high quality wines. Masters of their craft, their partnership has been forged to celebrate their dedication and achievements.
Each wine reflects Ricky's remarkable life and has been carefully crafted by Ben to ensure flavour, structure and complexity are of the highest quality.
DISCOVER MORE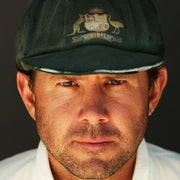 Ben and I spent time together in South Australia and travelled to Northern Tasmania to personally select this range of wines. We are proud to bring to you our first release under the Ponting Wines label, with more exciting wines coming on line soon.
Ricky Ponting

The Close of Play Cabernet is rich & complex with cassis and black cherry flavours, warm aromas of vanilla, bay leaf with a firm tannin finish. A great food wine – it would match perfectly with grilled rib eye or legs of lamb.
Franck Moreau

I have always been a fan of Ben Riggs as a winemaker and the Ponting The Pinnacle Shiraz did not disappoint. I'm now looking forward to getting my hands on the rest of the range.
Nick Breakspere

As a person that normally sticks to beer, it's fair to say I don't have the most astute palate when it comes to wines. It's a bit like asking a Northern Territory local how good the skiing is in Aspen, but I do know whether I like something. And I did! It was very drinkable. Proof was the empty bottles. The Shiraz was my pick. Well done to Rick and the guys, I may be coming around to this wine thing.
Andy Lee

I've already enjoyed a glass or two of The Pinnacle Shiraz; deep in colour, creamy in texture and plenty of character straight off the bat just like the founder himself. Ricky has always had the ability to build a quality team and judging by his first vintage of premium wines he is on the money once again.
Matthew Hayden
Former Australian Cricketer